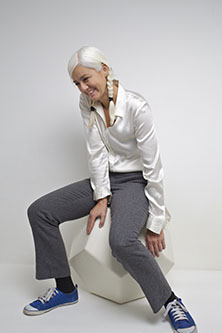 Marre Moerel is an internationally acclaimed designer, who has worked for established companies such as Cappellini (IT), Celda (ES), Covo (IT), Offecct (SE), Ozone (JP) or WilsonArt Int. (USA). Her work has featured in many design exhibitions (V&A + Design Museum, London, Superstudio Pui, Milan, + NY, Milan, Tokyo and Stockholm Int. Furniture Design Fairs), and has been published extensively (Habitare, Interni, Blue Print, Elle Decor; Spoon, International Design Yearbook).
She studied furniture design at the Royal College of Art in London. From 1993 till 2002 she lived and worked as a freelance designer in New York, where she also taught at Parsons School of Design. Besides this, she organized and curated annual design exhibitions, both in the New
York and Milan, to promote new and experimental work from up-and-coming designer from around the world (G7, hall 01'02'03). In 2003, to expand her horizons and in search for new inspiration, Moerel moved to Madrid where she's established her own business.
Marre Moerel Design Studio, is set up as both Design Office and Store. From here she distributes her own line of ceramics – mainly lighting and tableware – and continues to work on commisions and self-initiated projects. In the Store limited-edition pieces are for sale, together with prototypes and one of a kind objects.